Our Technical Helpdesk can help with your WiFiConnect internet connection.
Phone 0800 114 973 or email support@wificonnect
(remove-me)

.co.nz.
FAQs
What is the cost of moving house?
A reconnection fee of $150 is required when moving house.
What do you mean by 'line of sight'?
To access our WiFi services, your hzouse must be within line of sight of a WiFi repeater. We can only confirm this on a case-by-case basis and in some cases this will require a visit to your property.



How much data can I use?
Your internet is uncapped, so you can use as much data as you want.
What will the wireless broadband equipment on my property look like?
To receive the WiFi signal ommitted by our repeaters, we will need to install an antenna on the roof of your house (like a sky dish but smaller). A cable is run into your house; it normally comes up under your floor and into a area that has access to a power plug. We then leave a WiFi router that beams internet around your house for various devices.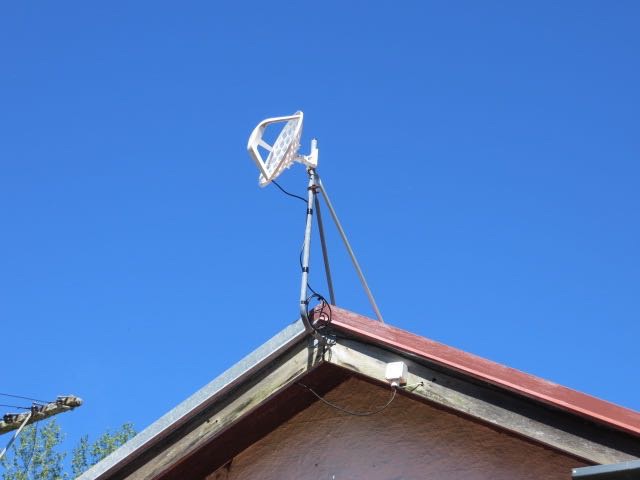 Do I need a WiFi router?
No. You don't need a WiFi router to access the internet from your roof antenna. Your computer can still be connected via cable. But if you have multiple devices (especially mobile phones) it is recommended that you setup WiFi access within your home.
How do I pay?
You must have a credit balance on your account at all times. We encourage all our customers to setup an automatic payment. Payments in advance should be made to the following account:

06-0637-0265428-00 - Tolaga Bay
06-0637-0265428-01 - Te Whaiti, Minginui & Ngaputahi
06-0637-0265428-02 - Murupara & Galatea
06-0637-0265428-02 - Ruatahuna
06-0637-0265428-03 - Hokitika & Greymouth districts
06-0637-0265428-03 - Fox Glacier to Bruce Bay
06-0637-0265428-03 - Franz Josef
06-0637-0265428-03 - Hari Hari
06-0637-0265428-03 - Haast
06-0637-0265428-04 - Kawerau

Include the following information in your payment setup:

Particulars: account holder surname and initials
Code: (leave blank)
Reference: account number
How can I get a statement of my account?
Get in touch with us and we will arrange to send out a statement.
Do you provide wireless coverage in my area?
Please see our section on wireless broadband for more information on where our services are provided.

Not on the list? We can co-locate with your school's ultra fast fibre optic connection to then WiFi to houses in your township. Get your school or community leaders involved by contacting us.
How does wireless broadband work if we have a concrete house?
You can either have a hole drilled through the bottom of your wall and seal it with silicone or through the roof eaves and into the ceiling then down the wall inside the house.
My internet is not working
Run through the following troubleshooting steps before contacting us:
Has your antenna on the roof shifted position?
Check the cable from the outside antenna into your house. Has it been cut or bitten? (Dogs like to chew the cable; especially under the house)
The black cable from the outside antenna must go into the square end of the white twin cable.
The small green light should be bright on the white twin cable. If not, check that the power plug is plugged in and switched on.
Are all of the cables clicked in to their ports?
Is your router plugged in and lights showing?
Try rebooting the antenna by taking the power cable out of the twin white cable for 10 seconds and then powering up again.
Try rebooting the WiFi router by turning it off at the wall for 10 seconds and then powering up again.
You can bypass the WiFi router by taking the twin white cable out of the router and putting it straight into your computer. If this works then you have a WiFi router problem.
If you are still having issues, please contact our technical helpdesk on 0800 114 973 or support@wificonnect.co.nz.
We only have the capacity for technical support during business hours 8:30am-5pm Mon-Fri. Leave a message after hours and someone will get back to you.